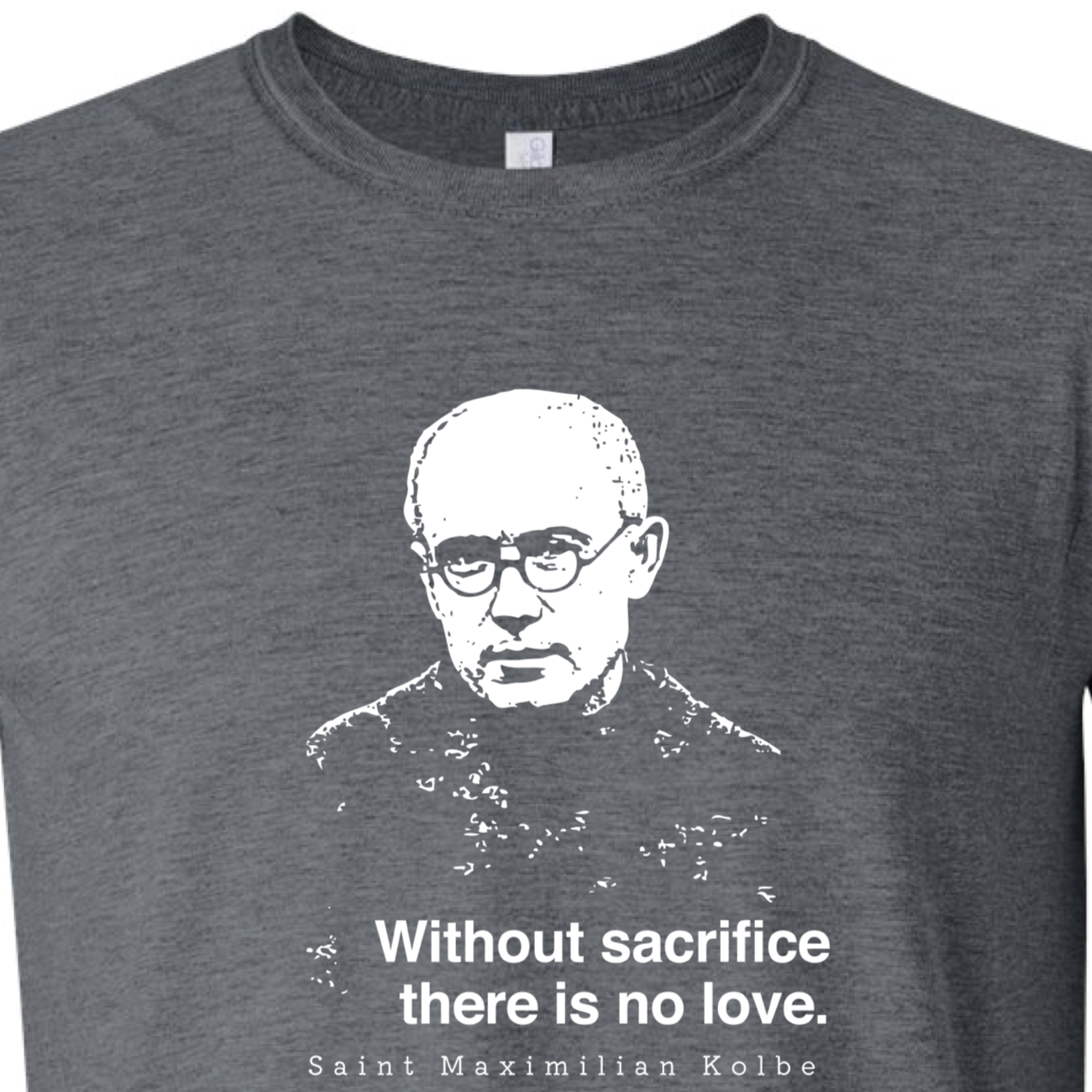 Without Sacrifice - St. Maximilian Kolbe T Shirt
Pickup available at SRHQ Warehouse
Usually ready in 2-4 days
Without Sacrifice - St. Maximilian Kolbe T Shirt
XS / Navy
SRHQ Warehouse
Pickup available, usually ready in 2-4 days
5305 Commerce Square Drive
Suite B
Indianapolis IN 46237
United States
+13174520674
My husband LOVES this shirt!
This was the second shirt I bought for my husband from Sock Religious, the first being his St. Joseph one. He is very particular about the feel and fit of his shirts, so I was very pleased when he instantly fell in love with this. We also have a special devotion to Maximilian Kolbe, so he got very excited receiving this one!
Christmas Gift Successful!
I bought this shirt for my Dad as a Christmas present and he liked it! God Bless!
Let your wardrobe witness to the sacrifice of Maximilian Kolbe and inspire sainthood. 

Our Lord said that there is no greater love than to lay down one's life for one's friends. This man, Saint Maximilian Kolbe, sacrificed his own life for the life of a stranger at the Nazi Concentration Camp in Auschwitz, Germany. As a consequence of someone escaping the concentration camp, Nazi soldiers would randomly select 10 prisoners to suffer a long, painful death in a starvation bunker. On such an occasion, one of the selected 10 begged the soldiers to spare him since he had a wife and children. In response to the man's plea, Maximilian Kolbe stepped forward to take his place. The Nazi soldiers asked Maximilian for his identity, to which Maximilian simply responded, "I am a Catholic priest." The soldiers accepted the substitution, and Maximilian Kolbe died ministering to his fellow prisoners starving in the pit. On October 10, 1982, the man saved by Maximilian–Franciszek Gajowniczek–attended the canonization of his rescuer, now Saint Maximilian Kolbe. What great sacrifice; what great love.
Extend the testimony of St. Maximilian Kolbe to others, regularly regain your inspiration from St. Maximilian's example, or exercise generosity by giving a friend the gift of St. Maximilian's witness to Christ and His Church with this That One Sheep shirt.
Need help with sizing?
Click below for details on sock, t-shirt, sweatshirt, and onesie sizing.