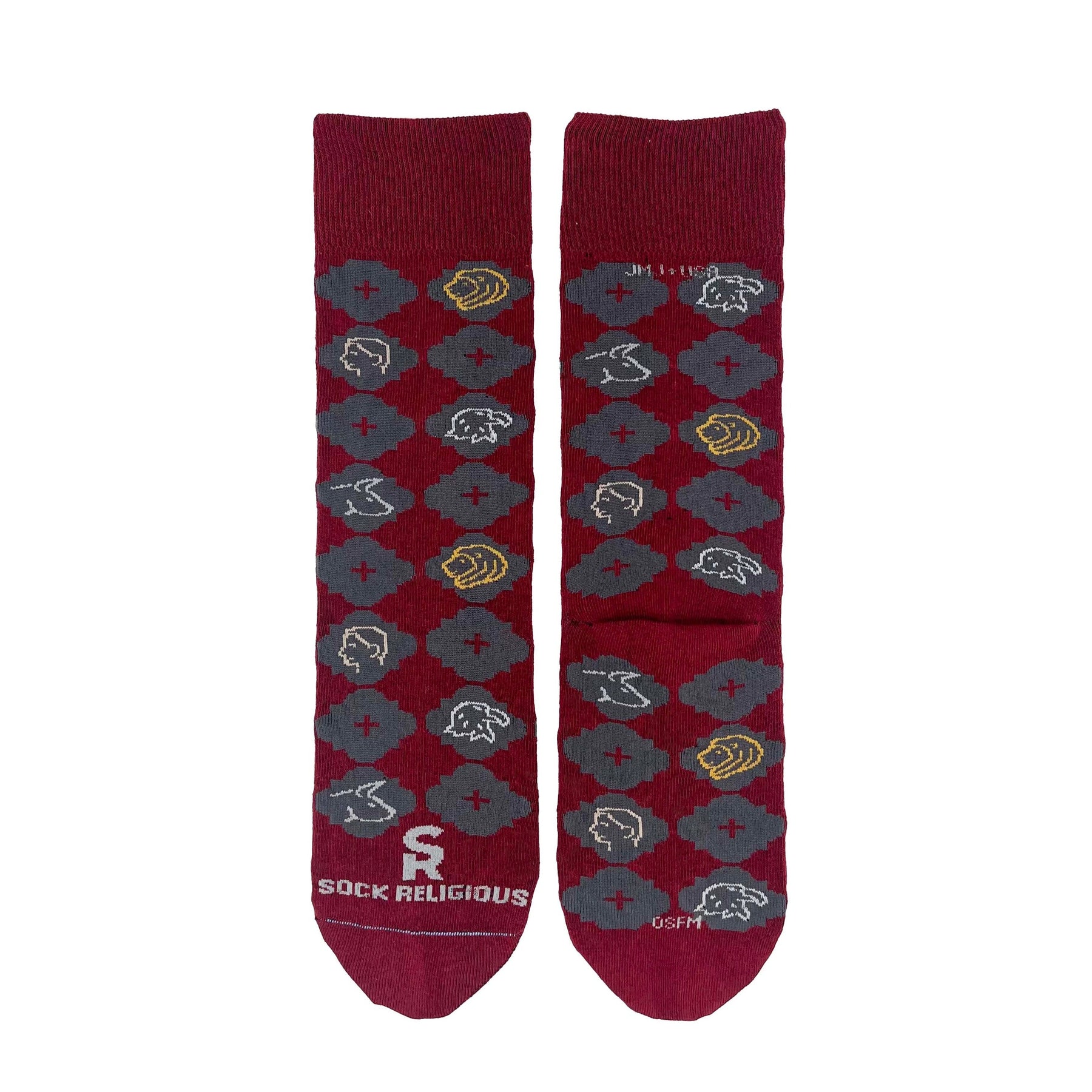 4 Evangelists Adult Socks
Pickup available at SRHQ Warehouse
Usually ready in 2-4 days
4 Evangelists Adult Socks
SRHQ Warehouse
Pickup available, usually ready in 2-4 days
5305 Commerce Square Drive
Suite B
Indianapolis IN 46237
United States
+13174520674
The four evangelists-Matthew, Mark, Luke, and John-also known as the gospel writers,
played significant roles in shaping the New Testament. Matthew, a former tax collector and follower of Jesus, focused on Jesus' teachings of righteousness and the fulfillment of prophecies. He is often symbolized by a man, because his gospel focuses on Jesus' human nature and the Incarnation. Mark, a friend of Peter, emphasized Jesus as the suffering servant and stressed the importance of faith. Traditionally symbolized by a lion, Mark's gospel conveys courage and strength. Luke, a doctor and a companion of Paul, highlighted Jesus' care for all people, sharing stories like the prodigal son and emphasizing the significant role of women. Luke is symbolized by an ox, signifying diligence and sacrifice. John, particularly beloved by Jesus, delved into the deep meaning of Jesus' divinity and spiritual significance. Often symbolized by an eagle,
John's gospel soars with profound theological insights. Together, these four writers offer diverse perspectives on Jesus' life and teachings.
The Largest Catholic Sock Company… probably. 

Tens of thousands of people are already wearing our socks.

These socks are sure to be a conversation starter and evangelization opportunity.

Our socks make great Catholic gifts for all occasions: First Communion, Confirmation, Ordination, Wedding, Christmas Presents, Easter Baskets, Graduation.

Proudly made in the USA by our team in Indianapolis, IN.

Each sock's essential stitches represent the Holy Family: Tan around the inside of the cuff, representing St. Joseph as head and protector of the Holy Family. Blue (outside) and white (inside) representing Mary and Jesus stitched across the toe of every sock. 

A portion of production goes to make socks for our brothers and sisters experiencing homelessness in Indianapolis, IN.



Need help with sizing?
Click below for details on sock, t-shirt, sweatshirt, and onesie sizing.