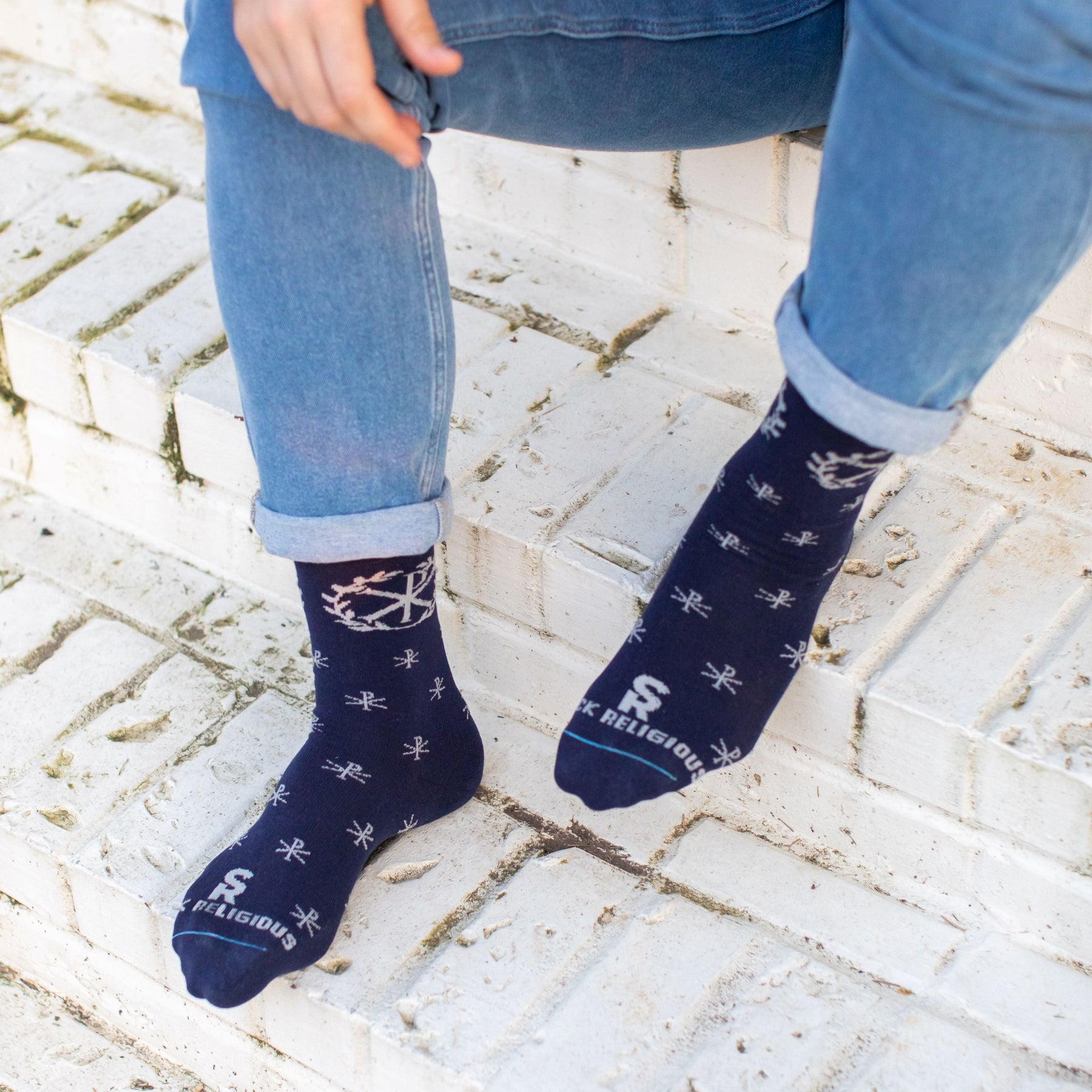 Chi Rho Adult Socks
Pickup available at SRHQ Warehouse
Usually ready in 2-4 days
SRHQ Warehouse
Pickup available, usually ready in 2-4 days
5305 Commerce Square Drive
Suite B
Indianapolis IN 46237
United States
+13174520674
Make a statement
Granddaughter who is not Catholic has been wearing the socks for a few years. She lives them
Chi Rho, also known as the labarum, holds immense significance as a Christian symbol. It represents the first two letters (ΧΡ) of the Greek word for Christ (ΧΡΙΣΤΟΣ). During the time of Emperor Constantine, the Chi Rho transcended mere symbolism. It became a beacon of hope and victory, adorning the military standard during a pivotal historical
moment. Emperor Constantine himself beheld a heavenly vision of the Chi Rho before a crucial battle, affirming the divine protection and favor that Christ bestows upon his faithful followers. When we contemplate the Chi Rho, we are reminded of Christ's divine nature, his redemptive sacrifice on the cross, and his triumphant victory over sin and death. This sacred symbol encapsulates the unfathomable hope that resides within our souls, for we know that through Christ, we are forgiven, redeemed, and reconciled with God. May the Chi Rho, along with these socks, serve as a constant reminder of our faith, a catalyst for spiritual growth, and a testament to the profound impact Christ has on our lives. With hearts overflowing with gratitude and devotion, let us unite under this sacred symbol, empowering one another to live out the glorious message of
the Gospel in every aspect of our lives.
The Largest Catholic Sock Company… probably. 

Tens of thousands of people are already wearing our socks.

These socks are sure to be a conversation starter and evangelization opportunity.

Our socks make great Catholic gifts for all occasions: First Communion, Confirmation, Ordination, Wedding, Christmas Presents, Easter Baskets, Graduation.

Proudly made in the USA by our team in Indianapolis, IN.

Each sock's essential stitches represent the Holy Family: Tan around the inside of the cuff, representing St. Joseph as head and protector of the Holy Family. Blue (outside) and white (inside) representing Mary and Jesus stitched across the toe of every sock. 

A portion of production goes to make socks for our brothers and sisters experiencing homelessness in Indianapolis, IN.



Need help with sizing?
Click below for details on sock, t-shirt, sweatshirt, and onesie sizing.