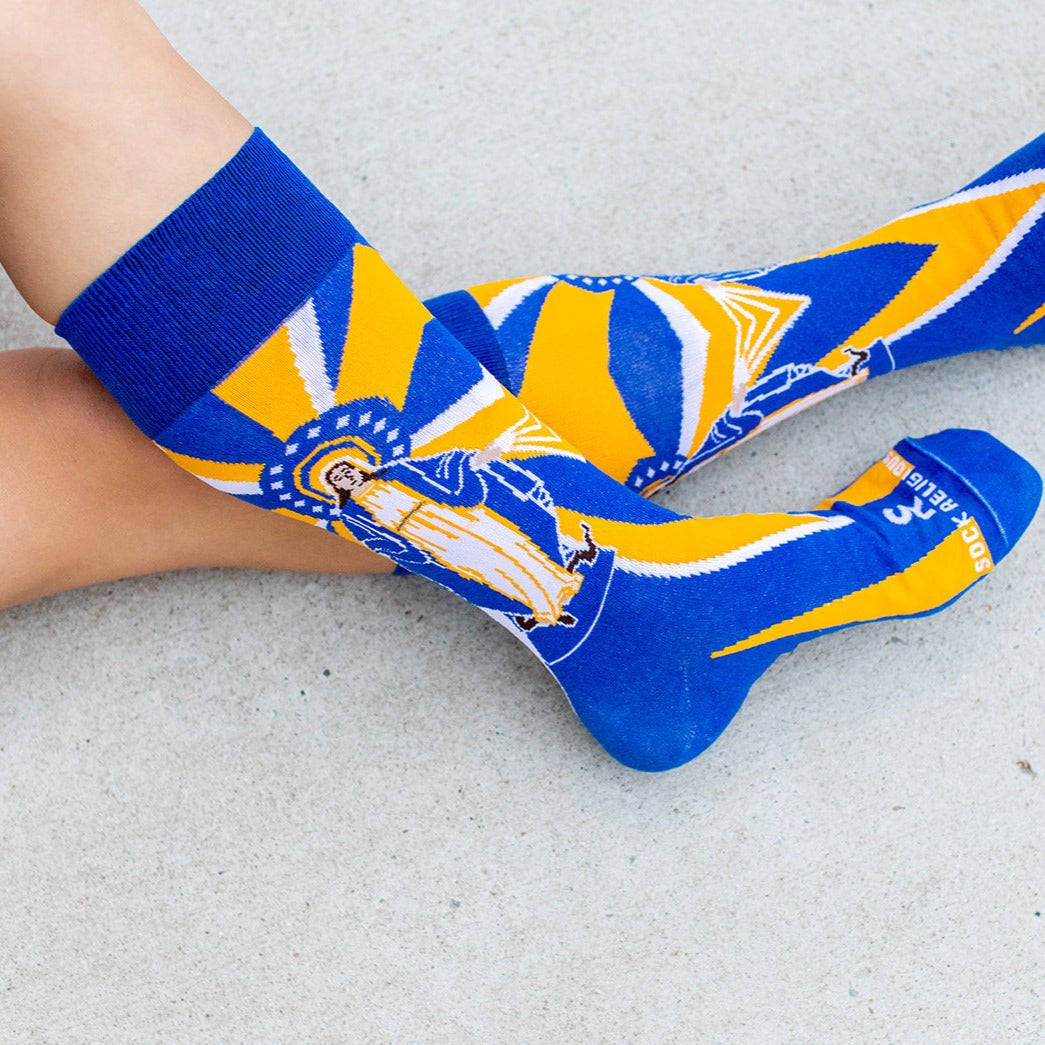 Our Lady of Grace Adult Socks
Pickup available at SRHQ Warehouse
Usually ready in 2-4 days
Our Lady of Grace Adult Socks
SRHQ Warehouse
Pickup available, usually ready in 2-4 days
5305 Commerce Square Drive
Suite B
Indianapolis IN 46237
United States
+13174520674
Love these!! Great gift idea!
I belong to our Lady of Grace Parish, and have bought these socks for several priests and seminarians over the years. And I love wearing them too, as a great reminder of our parish, and devotion to Our Lady!
I bought these socks for a family member.
She is undergoing chemo therapy, and they are perfect for her to wear during her infusions. She needs help from Our Lady, especially now.
Great socks - love the color!
Great sock (but one thing)…
These are beautiful looking socks. I will be gifting them to my mother on Christmas. However, I was a little sad to see that they were the only pair in my order that were not made in the USA. I understand that it might be out of your control. Thank you and Merry Christmas.
Hi Julie!
We are SO CLOSE to having all of our socks be made here in the USA! We are using up the last of what we have that was made in China, and will be fully switched over very soon!
Great gift for Mom!
My mom loved these and will probably order some more socks from here!
Gorgeous design, but colors much more muted than photo
I absolutely love the design! The serpent at the bottom of the foot is particularly brilliant. However, the colors were disappointing. I ordered several pairs of these as gifts before Sock Religious changed where they were manufacturing. The yellow used to be light & bright. Now it's all kind of muted and more of a burnt mustard. However, I hope maybe the new version will fade/wear/pill less than the original version, as those were pretty sad after even 1-2 washes. I've had to hand wash all the Sock Religious socks because of this issue. But the designs are so great I can't help myself.
Hi There!
Thank you for your 'feet'back on this design! I have passed along to our team your concerns.
As we switch our manufacturing to being made here in the USA, every sock that was previously made in China has to go through a 're-design' process. We make those design decisions based on available yarn, what our machines are able to handle, and creative changes the design team makes during the redesign process. We always appreciate our customers letting us know what they like and don't like, and we take it all into consideration!
Want to learn more about how we make our socks? Check out the video here: https://sockreligious.com/collections/made-in-the-usa?_pos=1&_psq=made+in+the+&_ss=e&_v=1.0
In the image of Our Lady of Grace, Mary crushes the head of the serpent and stands on the globe, representing her role as Queen of Heaven and Earth. The rays are a symbol of the graces Mary pours out upon the world. This image of Mary came about from a series of apparitions to Saint Catherine Labouré and is depicted on the Miraculous Medal. When our Blessed Mother gave the design of the medal to Saint Catherine she said, "Now it must be given to the whole world and to every person."

 The Largest Catholic Sock Company… probably. 
Tens of thousands of people are already wearing our socks.
These socks are sure to be a conversation starter and evangelization opportunity.
Our socks make great Catholic gifts for all occasions: First Communion, Confirmation, Ordination, Wedding, Christmas Presents, Easter Baskets, Graduation.
Need help with sizing?
Click below for details on sock, t-shirt, sweatshirt, and onesie sizing.